OUR PERS HISTORY 
The vast majority of AFSCME members are also members of PERS — Oregon's Public Employees Retirement System. Oregon AFSCME is a leader in the fight for retirement security for all. For PERS members in particular, in the mid-1980s AFSCME was one of the founding members of the PERS Coalition, a voluntary association of public employee unions (and one community group) with members in PERS. The PERS Coalition has been instrumental since its formation in fighting anti-PERS ballot measures and litigating bad PERS bills passed by the Legislature.
The average PERS benefit to a retiree is $29,720 per year, or about $2,476 per month, which is a modest income, yet it continues to be the center of attacks by corporate interests. The problem with the budget deficit is not PERS, it's the lack of corporate taxes.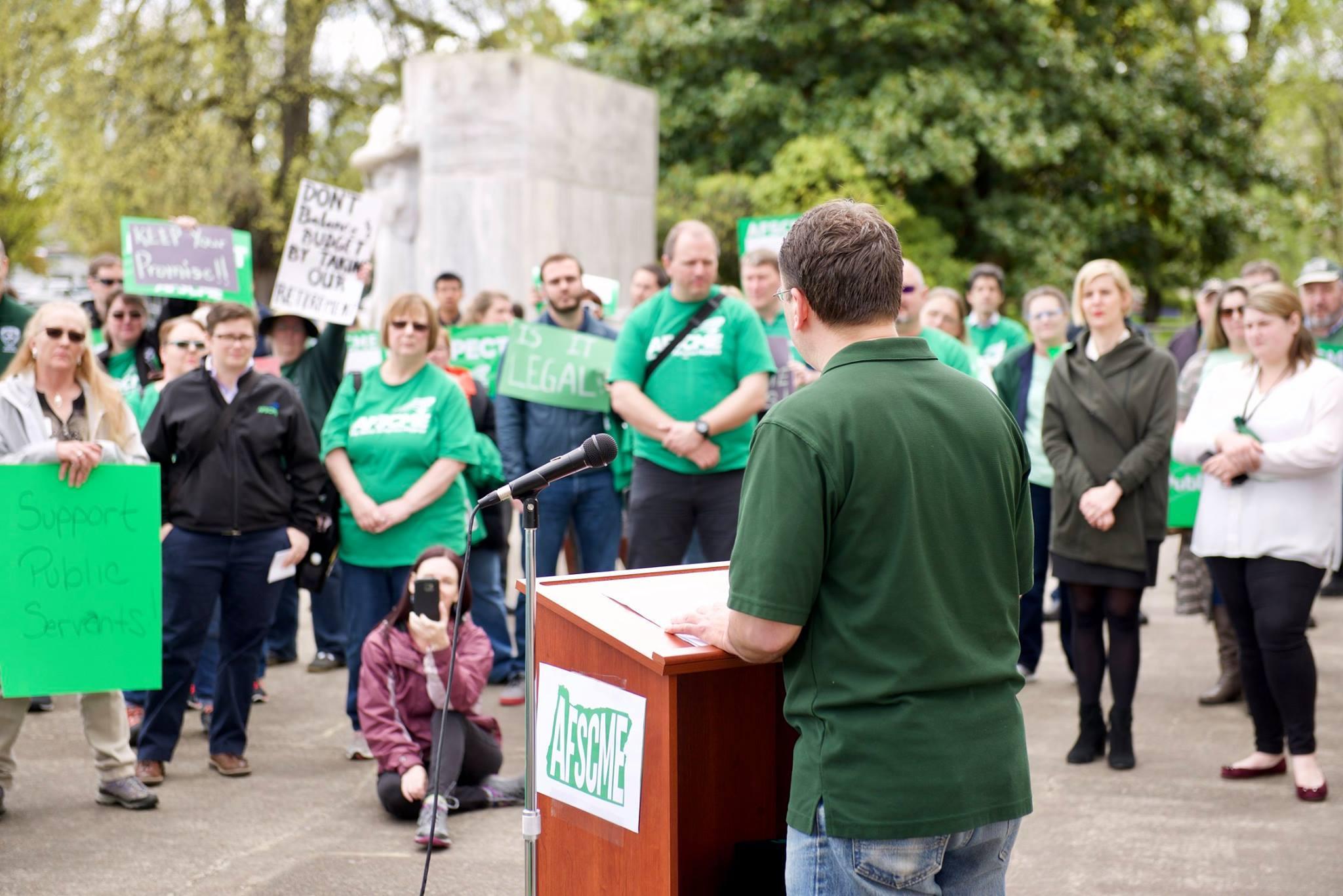 THE LATEST: SB 1049 
In the 2019 Legislative Session, legislators passed SB 1049, which negatively impacted the retirement benefits of public employees. Our union, along with other Oregon unions, filed a lawsuit to overturn SB 1049. Members took further action when your Oregon AFSCME Board voted to withhold interviews, endorsements, and donations for any legislator that voted for cuts to your PERS benefit

On Thursday, August 6th 2020, the Oregon Supreme Court released their ruling on the lawsuit challenging SB 1049, the legislation passed that diverts a percentage of money that goes into members' IAP accounts. This unanimous decision, while disappointing, is narrow in scope, and affirms the previous ruling that the legislature cannot make changes to benefits you have already earned. It also clarifies that the legislature can make changes to benefits not yet earned.
As a reminder, the court has repeatedly found that current workers can't be forced to pay for the costs associated with retirees' benefits, which is considered a state debt. In 2019, the legislature attempted to thread this needle by attacking our members' IAP to pay down the debt and reduce employer rates, our lawsuit challenged these changes.
As elected officials face the economic impact of the COVID pandemic, we need to ensure that they are not looking at PERS as a solution. Moving forward, it is imperative that we elect pro-worker legislators who will fight for workers, and not recognize us as heroes while cutting our retirement.
KEEP OREGON'S PROMISE COALITION
The Keep Oregon's Promise Coalition is made up of the people who teach our children, protect our lives and property, repair our roads and bridges, and keep our communities healthy and safe. Members include:
Oregon Education Association, SEIU Local 503, Oregon State Firefighters Council, Oregon Nurses Association, Oregon AFSCME, American Federation of Teachers, Oregon School Employees Association, Teamsters Local 223, District Council of Trade Unions, Association of Engineering Employees, American Association of University Professors, Oregon State Police Officers Association, Association of Oregon Corrections Employees, Portland Police Association, Oregon PERS Retirees, Inc., Professional and Technical Employees Local 17.